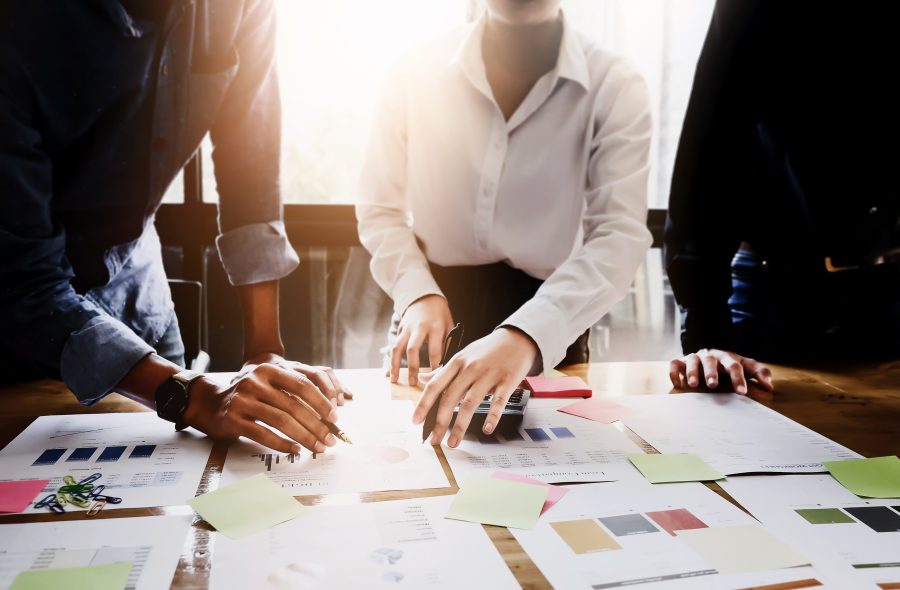 With the new year on the horizon, you've most likely been inundated with article after article about "2018 trends" and "marketing strategy must-haves". But with 15 million other things vying for your time and attention, the thought of carving out an entire day to create a documented marketing plan sounds like a giant, overwhelming, time-suck.
You've already told your team you'd like to increase sales by 20% next year. You should be good right?

A Goal Without a Plan Is Just a Wish*
You are exactly right—identifying a revenue goal is an important step in achieving success. But it's exactly that—a step.
You may have a clear vision on how it's supposed to play out, but without communicating measurable objectives and a clear action plan, everyone on your team will be left to draw their own conclusions on what is to be done, and by whom, instead of working together in an efficient and streamlined manner.
Lack of planning also increases your likelihood of wasting time and money in making snap decisions that are influenced by:
The panic that comes with a dip in sales
Flash-in-the-pan marketing trends that have nothing to do with your business model
Misdirected and opinionated staff members
Pushy advertisers trying to tempt you with "today only" sales
Good Luck is The Result of Good Planning
On the other hand, a well-defined marketing plan that accounts for your current situation, your goals, your budget, and your target audience, enables you to:
Identify patterns in your customer's buying behavior
Measure and evaluate the effectiveness of past marketing efforts
Identify new marketing avenues that are likely to offer the highest rate of return
Ignore trends that are not in alignment with your business goals
Eliminate marketing efforts that have proven ineffective
Create a Basic Marketing Plan in 5 Easy Steps
Luckily, developing a basic marketing plan doesn't have to be an insurmountable task—it's really just figuring out where you want to go and making a to-do list of how you're going to get there. The hardest part is often figuring out where to begin.
That's why we've made this process as simple (and easy-to-start) as possible by outlining the main five steps any business needs to take, regardless of their business or industry.

Step 1: Analyze Your Situation
Having a solid understanding of your business' past and present enables you to learn from previous failures and make realistic goals and informed decisions that keep you moving forward.
A situational analysis can be as simple as writing down where you were financially last year, what you've done this year, and what has and hasn't worked so far.
Overwhelmed already? Don't worry—we've provided a list of questions to ask at this step of the process in our downloadable marketing plan guide. Get it by filling out the form below.

Step 2: Set Clear Goals and Objectives
After analyzing where your business has been, it's time to identify where you'd like to go and answer the question, "What do you want your marketing plan to achieve?"
But identifying your goals is only half the battle. You then need to follow those goals up with clear objectives. This makes it easy to see if what you expect is reasonable and attainable allowing you to make any needed adjustments now, instead of wasting your time and money throughout the year to find out your goal was actually too aggressive at this stage of the game.





Sometimes examples can be really helpful at this stage so we've included a few in our downloadable marketing plan guide available below. Take a look!
Step 3: Calculate a Budget
To ensure step two's success, you're most likely going to need to spend some money on marketing and advertising. But how much money will depend on one, the ambitiousness of your goals and two, the size of your business.
By determining a budget in advance you're ensuring you'll have enough money to last you through the year. It also makes you more likely to spend every dollar with purpose rather than impulsively purchasing something because it sounds like a good deal, or because your sale's guys 14-year-old daughter said you should be on Snapchat.
Budgets can be a bit tricky but the good news is you've already done most of the hard work in step one. Our marketing plan guide, available for download below, walks you through how to translate this information into a number you can use to guide your plan in step 4. Download it now.

Step 4: Define Your Strategy
It's now time to decide which tactics you and your team will use to achieve the goals and objectives you defined in step two, within the confines of your business' available funds identified in step three, while taking into account the effectiveness of your past and present efforts outlined in step one.
When identifying what platforms you'd like to use, it's also a good idea to establish how you will track and measure each tactic so that you're able to determine the effectiveness "at a glance," and know quickly and easily whether you're on a positive trajectory. Knowing what's working and what isn't, with the data and analysis to back it up, will not only help you decide if you should pull the plug or up the voltage this year, but also identifies what tactics resulted in the highest ROI, so you'll be sure to take advantage of them again in 2019.
Great job! You're almost there! If this phase is a little overwhelming with all of the marketing and advertising platform options available today, refer to our handy-dandy list of popular channels included the marketing plan guide, available for download below.

Step 5: Write it Down & Share it With Your Team
At this point the marketing plan should be complete. All that's left to do is map it out on paper—if you haven't done so already—and ask for feedback. Review your goals, tactics and budgets with each person involved in implementing this plan. This will confirm whether your goals are truly realistic, ensure everyone is on the same page, and could even motivate your team to be more personally invested in seeing the plan through to success.
Don't forget: Once the plan has been finalized and executed, continue to measure and monitor it. Schedule regular progress meetings so that you're able to make adjustments based on real-time data, ensuring your time and money is only spent on what's getting you the results you're looking for.




Is it clear in your head but you're at a loss when it comes to writing it down? Download our marketing plan guide below for an example of how to tie it all together in a way that's easy to pass off to your team.
We're Here to Help

While we've tried to distill this process down into its five easiest steps, sometimes adding one more thing to your plate is literally an impossibility. So, if instead of trying to do this on your own, you'd rather have someone experienced and knowledgeable do it for you—we're here to help! We'd love to position you to reach your 2018 business goals using our results-driven strategies and integrated marketing services.

We've completed detailed marketing plans for companies and budgets both large and small. You can see them for yourself in our case study and service sample here.

Happy planning! Here's to making 2018 your best year yet!

*Antoine de Saint-Exupéry

Tags: 2018, business goals, business owners, free guide, goal setting, marketing, marketing guide, marketing plan, marketing strategy, step by step guide